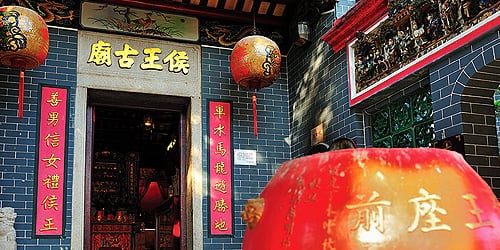 Hau Wong (侯王), literally "Prince Marquis", refers to Yeung Leung Jit (楊亮節), who protected the 8-year-old last emperor of Southern Song (南宋) Dynasty against the Mongols in 1276 – 1279 AD. He died of illness in Kowloon in 1279, and Southern Song Dynasty fell in the same year.
There are several temples dedicated to Hau Wong in Hong Kong. The Hau Wong Temple (侯王宮) in Tung Chung (東涌) was built in 1765 and is the largest one in Lantau Island. The temple is located on the shore Tung Chung Bay, where Hau Wong is believed to fight against Mongols on the sea. The temple has a "two-hall-three-camber" structure, and there are beautiful sculptures on its roof.
The festival dedicated to Hau Wong's Birthday (侯王寶誕) is a big event for villagers in Tung Chung each year, which begins on the 16th day of August of lunar calendar, and lasts 5 days. The celebration includes Cantonese Opera (粵劇), lion and dragon playing, firecrackers and banquets, which are all held on the clearing in front of the temple. A big bamboo theater (戲棚) will be constructed prior to the festival, in which the stage is set just opposite to the entrance of the temple because the Cantonese Opera performed in this bamboo theater is a thanksgiving ritual.
Getting to Hau Wong Temple:
By MTR Tung Chung Line (東涌線): Please refer to the map above. Take NLB Bus #38 at the Exit A of MTR Tung Chung Station to Yat Tung (逸東), and then around 15 minutes' walk to Hau Wong Temple.
Sights close to Hau Wong Temple:
Tung Chung Fort (東涌炮臺)
Ngong Ping 360 Rescue Trail (昂坪360救援徑)
Ngong Ping Cable Car (昂坪纜車)
Tian Tan Buddha Statue (天壇大佛)
Po Lin Monastery (寶蓮禪寺)