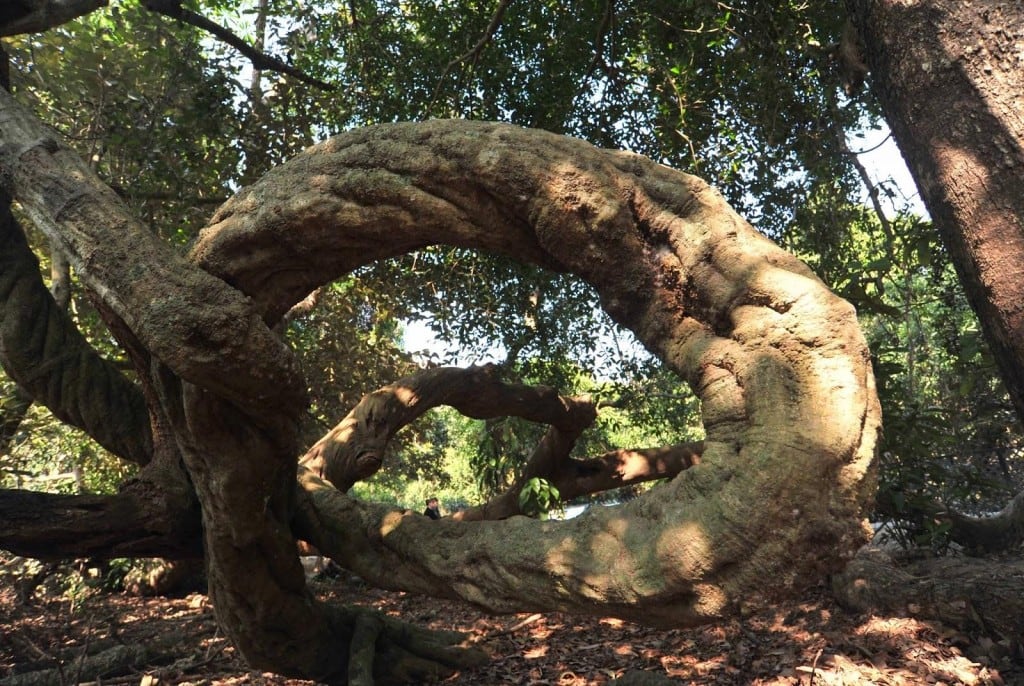 The mudflat east of Lai Chi Wo Village is situated in an intertidal zone. Regularly submerged in water, the mud here is soft and wet. However, it is still drier than the seaside mudflats at low tide, and a few plant species can survive here.
Coastal Heritiera is one of them. Coastal Heritiera is very rare in Hong Kong, but thanks to its unique structure, it has become a dominant species on this mudflat. The tallest individual stands 11 meters tall. A White-flowered Derris, estimated to be over 100 years old, also grows in the forest, stretching like a giant python.
White-flowered Derris is a climbing species growing side by side with seaside mangroves. Native to Hong Kong, this Derris grows interwoven with the bed of Coastal Heritiera. Unlike ordinary Derris branches which grow to the size of a finger, this century-old White-flowered Derris has stems measuring 20-30 cm in diameter. Like a giant python, the Derris twines and coils around Coastal Heritiera and other trees on this mudflat. It taks years for it to develop into the appearance and size we see today. It may be hard for tourists to imagine how many centuries these stems, and indeed the quaint old world of Lai Chi Wo, have gone through.
—
How to Get There:
MTR Tai Po Market Station -> Mini Bus 20C -> (Special Route) -> Get off at Wu Kau Tang -> Walk about 1.5 hours to Lai Chi Wo
MTR Tai Po Market Station -> Bus 275R (Sundays and Public Holidays only) -> Get off at Bride's Pool Terminal -> Walk about two hours to Lai Chi Wo via Wu Kau Tang
MTR Fanling Station -> Minibus 56K -> Get off at Luk Keng Terminal -> Walk for approximately 2.5 hours to Lai Chi Wo from Fung Hang
—
Chinese Translation:
Lai Chi Wo:荔枝窩
Heritiera Forest:銀葉林
White-flowered Derris:白花魚藤
Wu Kau Tang:烏蛟騰
Bride's Pool:新娘潭
Luk Keng:鹿頸