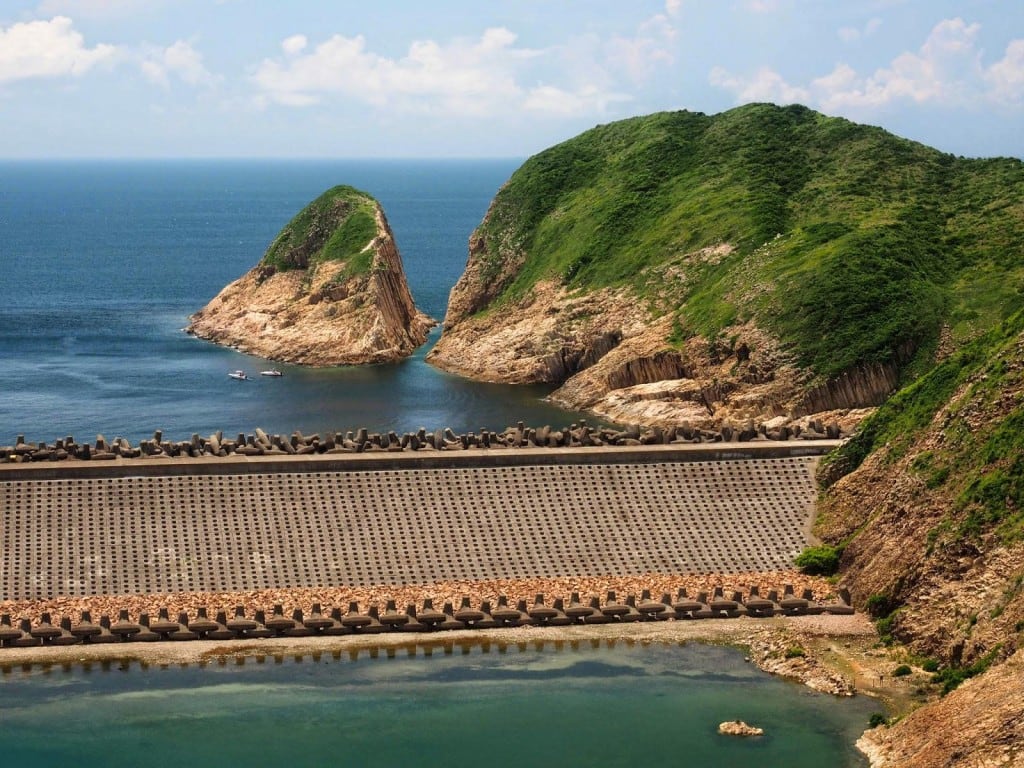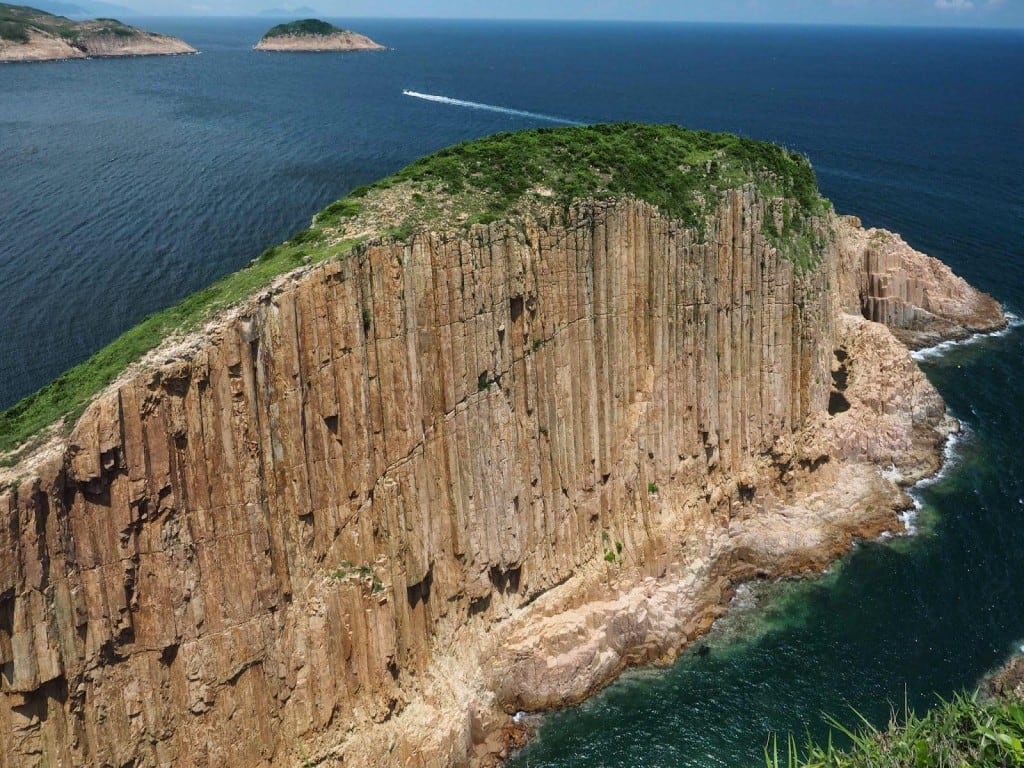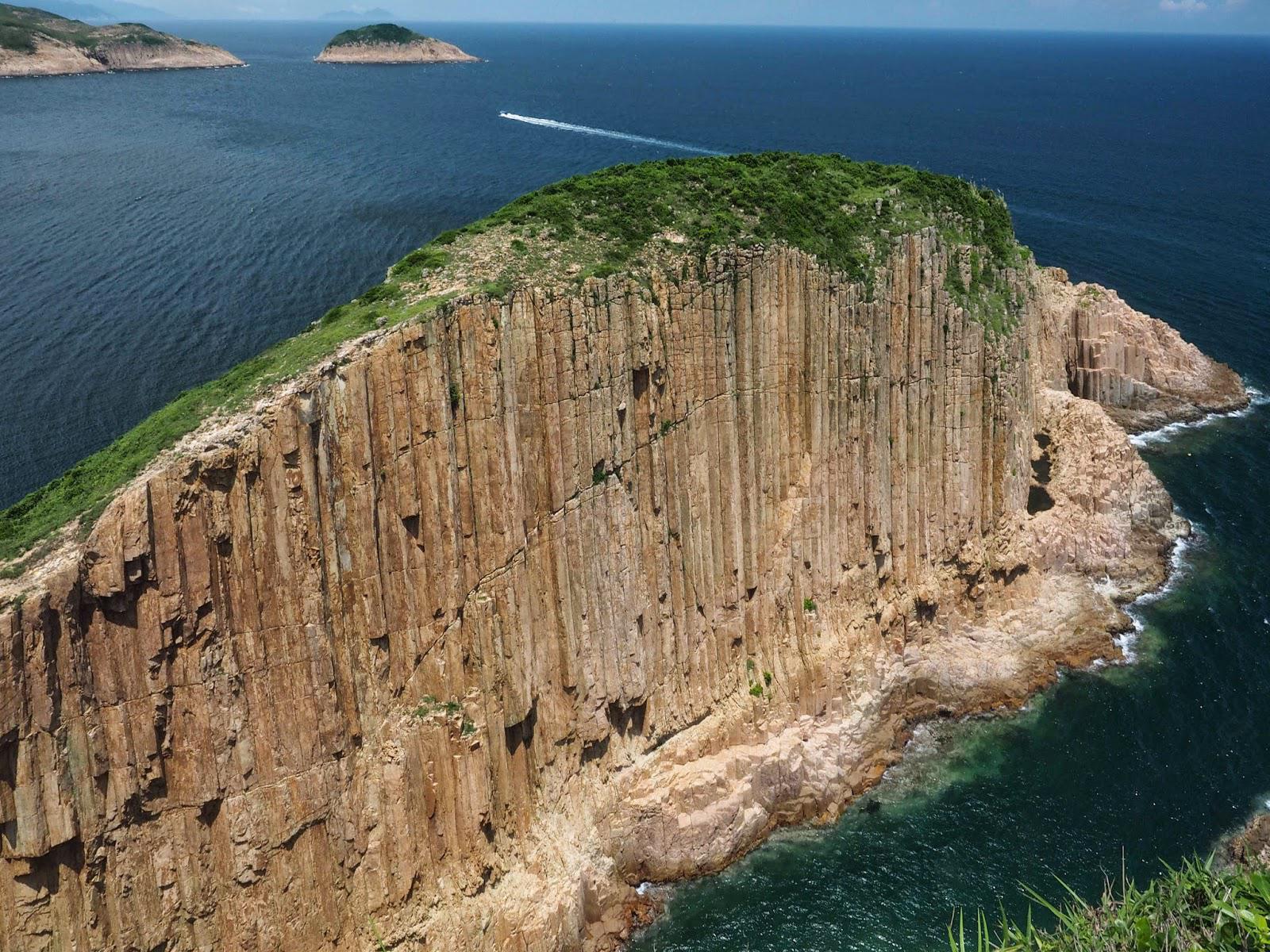 As the Chinese name implies, Po Pin Chau is an island cut away from the mainland. It was once a part of Fa Shan.
Po Pin Chau was formed in several stages. The impact of pounding waves on Fa Shan resulted in progressive erosion on the weaker rock strata until a sea cave was formed. Over time, the cave became larger and deeper, and eventually cut right through Fa Shan, formed a sea arch. The eventual collapse of the sea arch cut Fa Shan into two parts, with one became the sea stack – the Po Pin Chau we see today.
The hexagonal columns of Po Pin Chau came from a number of violent volcanic eruptions in eastern Hong Kong about 140 million years ago. It formed a gigantic caldera which swallowed quantities of lava-rich volcanic ash. The incandescent mixture evenly cooled down and contracted, forming hexagonal joints.
—
Tips:
If you want to get a closer look at the Po Pin Chau sea stack, follow the High Island Reservoir Geo Trail and  walk to the end of the Sai Kung Man Yee Road. Carefully climb along the wall of the water supply station and uphill on Fa Shan. Follow the small trail to the end to view the masterpiece of nature.
—
How to Get There:
MTR Diamond Hill Station -> Bus 92 (or take 96R directly to Pak Tam Chung, but it only runs on Sundays and public holidays) -> Sai Kung Town Center -> Bus 94 -> Get off at Pak Tam Chung -> Follow Tai Mong Tsai Road ->  Sai Kung Man Yee Road (Maclehose Trail Stage 1) -> Walk about 10km -> The end of the road is the High Island Reservoir Geo Trail and East dam
Or, take a taxi at Sai Kung Town Center to the East dam (around HK$100).

—
Chinese Translation:
Po Pin Chau: 破邊洲
Sea Stack: 海蝕柱
Fa Shan: 花山
High Island Reservoir: 萬宜水庫
East Dam: 東壩
Pak Tam Chung: 北潭涌
Tai Mong Tsai Road: 大綱仔路
Sai Kung Man Yee Road: 西貢萬宜路