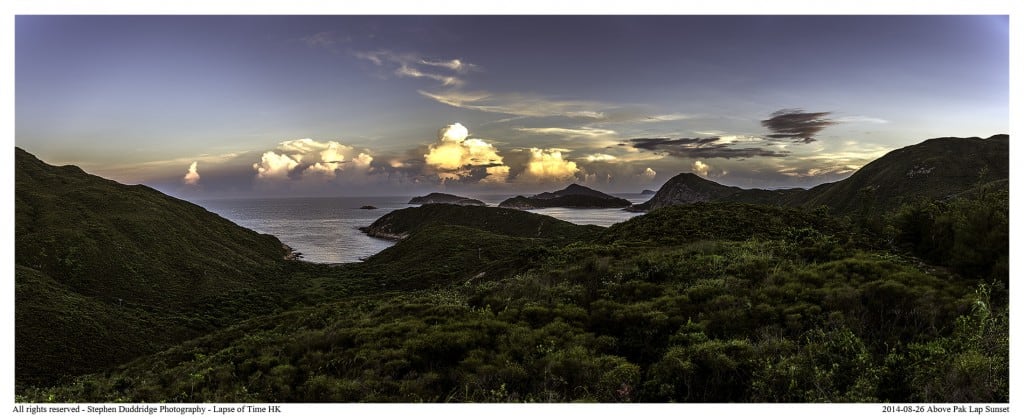 A city known for its harbor front has many hidden jewels along its coast line. One of those that is being well looked after and becoming more accessible is Pak Lap Wan. Rated in the top ten beaches, it has more than a protected harbor and white sand beach to offer.
The location has both hostels (Hk$ 300-800 per night) and campsite close by.  You won't find a 7/11 in site but the good news is there is a store at the Pak Tam Chung parking lot/bus terminus.  The country park at Pak Lap Wan beach has been restored by an environmental group who has opened not only a restaurant with dishes made of locally grown organic food but also rents out paddle boats of different types.  For $HK100 a day for rental is more than fair to explore the coast line in the protected harbor.  The water is excellent for swimming but no lifeguards nor shark nets are provided.
It's also an excellent place to eat or cool off with a swim after enjoying a day of hiking around the area.  Mok Min Cave a.k.a Tung Kok Cave is only a 30 min climb to Tung Sam Kok Peninsular.  Much of this area is excellent for shooting the bays and scattered islands.  For photographers it would be excellent for shooting stars and sunrises.  As I spent the day on the beach with my son I will be coming back to explore this natural side of Hong Kong that many escape the bustle of the city to enjoy.
—
How to Get There:
It used to be only accessible via boat when the seas are calm, a couple of hours hike along Maclehose Trail – Stage1 from Pak Tam Chung or taxi service (from Sai Kung Ferry Pier roughly $118HK or Pak Tam Chung Parking lot a little over $50HK) along Sai Kung Man Yee Road with about a 10 – 15 min walk down to the beach.  One can get the 94 from Sai Kung to Pak Tam Chung or 96R from Diamond Hill to Pak Tam Chung. There is a taxi stand at Pak Tam Chung but come with a few phone numbers with you and keep trying if you don't get through the first time.  Don't be surprised if you run across highway of cows on the trail down to the beach.
—
Chinese Translation:
Pak Lap Wan:白腊灣
Pak Tam Chung:北潭涌
Mok Min Cave: 木棉洞
Tung Kok Cave:東角洞
Man Yee Road: 萬宜路
—
Other Contacts:
For photography tours of the area contact stephen@thisis.hk and photos from all over Hong Kong available for purchase at www.lapseoftimehk.com Lapse of Time HK is a leading provider of time-lapse footage in Hong Kong including Blu-ray release called "This Is Hong Kong".