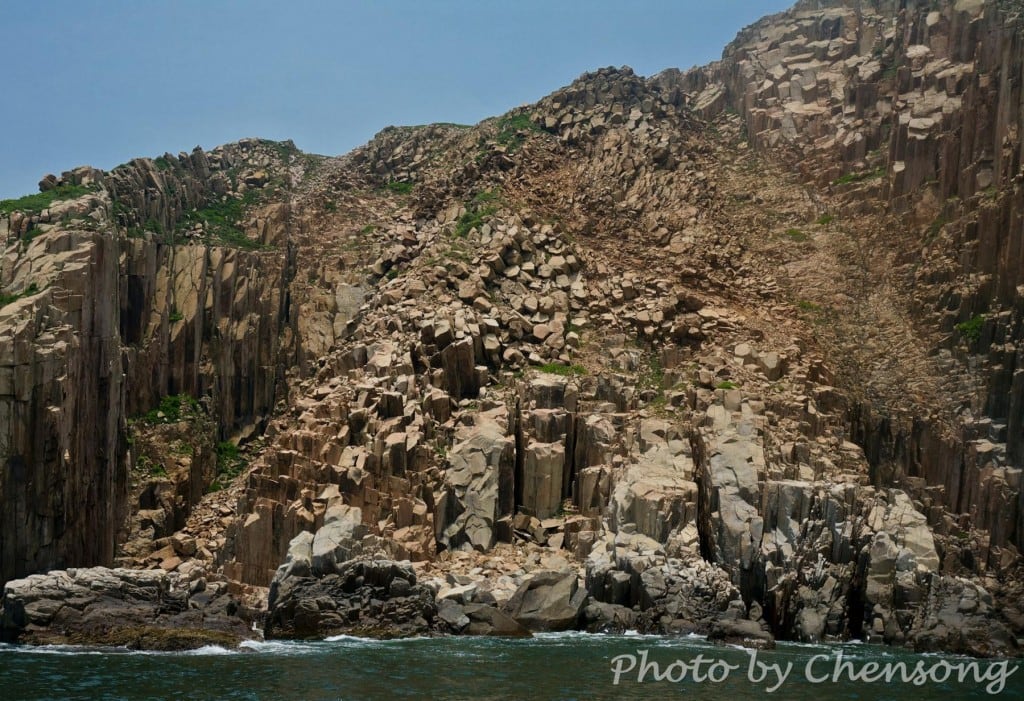 Ninepin Group or Kwo Chau Islands (果洲群島) consists of North Ninepin Island, South Ninepin Island and East Ninepin Island. The North Ninepin Island also includes Sai Mei Chau and Hok Tsai Pai.
The island group got its English name "Ninepin" from the traditional British game similar to bowling nowadays. Therefore, when the British seamen first saw the layout of these islands, the word "Ninepin" came to their mind. The Chinese name "Kwo Chau" means fruit islands because the array of these islands look like scattered fruit from an overturned plate from heaven.
There are many scenic spots in Hong Kong Global Geopark that tourists can see the hexagonal volcanic rocks, such as High Island Geo Trail at High Island Reservoir, Town Island, Wang Chau, Fa Shan and so on. But at Ninepin Group, you can see the weirdest and most spectacular volcanic rocks in Hong Kong. Some rocks are growing horizontally from inside to outside (a.k.a. Cannon Rock), some are huge rocks with a diameter up to 2m.
Locating at the open sea at the very southeast of Hong Kong, the islands are exposed to the most relentless wind and big waves. Some islands can only be visited on calm summer days or just rent a boat at Sai Kung Pier to view the landscapes at a distance.